Product catalog
News
About our products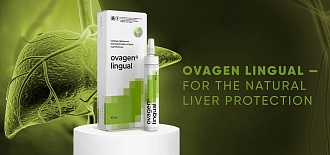 Immunity. How to maintain our genetic defense?
03.03.2023
Our body is constantly changing and meanwhile "loves" consistency and can function normally only under certain parameters of its internal environment. For instance, normal body temperature ranges from 36 to 37 degrees centigrade. Remember your last flu and the feeling unwell when the temperature rose. The same applies to other parameters, including blood pressure, blood pH, oxygen and glucose levels in the blood etc. The constancy of the parameter values is called homeostasis, and almost all the organs and systems of the body support its stable level: heart and blood vessels maintain constant blood pressure, lungs keep oxygen levels in the blood, liver supports blood glucose level and so forth.
The immune system is in charge for genetic homeostasis. It helps to keep the genetic composition of the body permanent: its purpose is destruction of all the foreign bodies and the products of their vital activities, coming from the outside (bacteria, viruses, fungi, toxins etc.) as well as the body's own cells when "something goes wrong" and, for example, they turned into a malignant tumor, which means they became genetically foreign organisms.
Many people are concerned about the state of their immunity and try to maintain it. However, wondering how to strengthen immunity, not everyone has an idea where this immunity is and what it consists of. In this regard, we provide a brief information on this issue.
Immune system organs include:
Tonsils — one of the main "security posts" of the body: immune cells located in the tonsils prevent foreign agents' penetration through the nasopharynx, protecting respiratory and gastrointestinal tracts.
Thymus is located behind the breastbone. Immune system cells and T-lymphocytes mature and train to pinpoint enemies in this organ.
Spleen purifies the blood of damaged cells and foreign agents (this procedure is called phagocytosis — elements of immune systems "devour" and "digest" the "foreigners"). Immune cells are stored there as well.
Intestine — Peyer's patches located in the small intestine protect the gastrointestinal tract from bacteria and viruses.
Bone marrow is a manufacturer of blood cells, which maintain the genetic homeostasis constancy (for instance, leukocytes — white blood cells, responsible for the body's immune response).
Lymph nodes are located on the flow of the lymph. The cells that destroy the invading bacteria are located in them. Elements that provide immunological memory "live" there as well: they "remember" foreign agents, which they had already encountered.
Immune system organs perform 3 crucial functions:
produce the immune cells:
provide the necessary conditions for their maturation:
serve as immune cells storage.
Reduced immunity causes and symptoms:
As we grow older, our immunity is able to decrease. This occurs under the influence of adverse environmental factors, bad habits, and unhealthy lifestyle. Weakened immune system does not have enough time to trace all the pathogenic agents penetrating into the body and kill them in a timely manner. Thus, acute and chronic diseases develop, and aging processes are accelerating.
Immunity strengthening and prevention of reduced immunity are performed according to the same rules:
Moderate physical activity: swimming, running, walking, gymnastics, fitness;
Increasing stress resistance;
Immune strengthening in adults implies giving up bad habits: smoking, frequent alcohol consumption;
High-quality, balanced diet (for a well-designed diet one should consult a specialist);
Careful observance of personal hygiene will strengthen the immunity. Visit your dentist regularly, prevent the development of tooth and gum pathologies!
Our company has a wide range of peptide-based products created to strengthen immunity:
Back to the list