Product catalog
News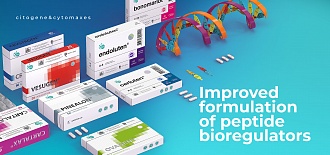 About our products
Revilab peptide ML
Anti-aging multifunctional peptide products.
The revilab ML line of multifunctional products is a complex of modern short peptides consisting of 2-10 amino acids. The peculiarity of revilab ML age protectors lies in the principle of their all-in-one action – when one capsule contains a whole set of peptide and non-peptide regulators, specifically selected to solve a specific problem.
All of the 9 products contain a range of short peptides, as well as antioxidants and cell building materials. Short peptide fragments of revilab ML have a rapid effect on the restoration of the functions of internal organs.
These bioregulators of the latest generation are aimed at slowing down the aging process, maintaining a normal level of metabolic processes, and preventing and correcting various pathological conditions. They also help in the rehabilitation after serious illnesses, injuries and surgeries.