Product catalog
News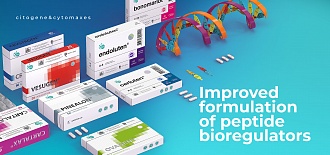 About our products
The path to physical harmony: keep your weight under control!
18.01.2023
Excessive deposition of fat in the body, which presents various health risks, is called obesity. Unfortunately, today, this disease became a global epidemic. Obesity is not only dangerous on its own, but is also the cause of a dozen diseases that can even have a lethal outcome.
What are the causes of obesity?
Hereditary factors - in case of obesity they are not leading causes. External factors have a greater impact on the emergence of obesity.

Overeating (bad eating habits with excessive consumption of fatty foods and simple carbohydrates, irregular meals (in the evening), large portions, frequent snacks, watching TV during meals, stress eating).

Endocrine disorders.

Reduced energy expenditure (lack of physical activity; sedentary habits.)

Metabolic disorders - stress (reduced protein synthesis; disruption of normal fat combustion; increased accumulation of fat by tissues).
What are the risks of being overweight?
Cardiovascular diseases;
Type II diabetes;
Joint diseases;
Increased risk of developing certain cancers;
Cholelithiasis;
Chronic venous insufficiency;
Depression;
Decreased reproductive function (women and men).
There are methods to maintain optimal weight based on knowing and loving your own body. Don't try to change everything at once.
✔ Consult a doctor, undergo the necessary examinations.
✔ Understand the psychological causes of excess weight (eating from boredom, from stress, from loneliness, etc.). Find an incentive that would be more important than an extra piece of pie.
✔ Start moving more regularly, but on an optimal schedule - without shortness of breath or overworking. The ideal exercise is walking – just 1 hour of walking a day will already be sufficient exercise for weight loss. Swap elevators for stairs! Try to find an opportunity to exercise while completing daily tasks. It is crucial to increase your physical activity.
✔ Write down everything you eat during the day. Keep track of the total calorie content of your food. The average caloric content of the daily diet for men is 2,500 kcal, for women - 2,200 kcal. Your doctor will help you determine your ideal daily calorie intake.
✔ Follow your "healthy eating" diet: eat 4-5 times a day at the same time, correctly distribute the caloric content of food throughout the day.
✔ Reduce animal fats in your diet (lamb, pork). Give your preference to low-fat meat, fish, and dairy products. Try to limit your consumption of vegetable oils, nuts and seeds.
✔ Increase your intake of fiber (vegetables and fruits), legumes (beans, lentils).
✔ Eat steamed, boiled or raw foods.
✔ Limit salt. Products should provide a feeling of satiety (low-fat meats, fish), create a feeling of filling the stomach (vegetables rich in fiber - cabbage, carrots, turnips, beets, celery stalks, lettuce, etc.), satisfy the need for sweets (berries, tea with fruit, milk).
✔ Eliminate easily digestible carbohydrates - sweets (sweets, cakes, ice cream, cookies); limit the consumption of bakery products, pasta; eat whole grain cereals.
✔ Don't go hungry. Food should be tasty, in sufficient quantity. Eat with pleasure, slowly, chewing food thoroughly.
✔ Monitor your weight regularly - weigh yourself every morning on an empty stomach and write it down in a notebook.
On the way to achieving harmony, the products of our company will help you: Endoluten, Thyreogen, Svetinorm, Cerluten, Temero Genero, Felicita, Ardiliv, Volustom, Reviform Cocktail, Reviform oil blend, as well as the innovative drug Revilab Anti-A.G.E.
By reducing weight, you reduce the risk of a large number of diseases and improve the quality of your life!
Back to the list