Product catalog
News
About our products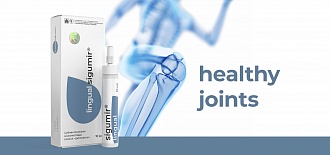 01.09.2023
"Sigumir lingual" for healthy joints
The effective care of joints and ligaments is a careful attitude and timely prophylactic measures to prevent the negative effects of high physical exertion.
Unprecedented action for partners and consumers of Europe!


In the spring of 2018 was held an official entry of the company into the market of Europe.
It is the new page in company`s development: now it works as global economic structure without borders. We care so that production would be high-quality and effective, cooperation with the company productive and comfortable, and our prices - available. We also actively support those who strive for success, who is guided by ambitious goals, ready to move forward and live brightly, interesting, saturated, and enjoy the performed work.
Specially for numerous consumers in the territory of Europe from 26th of March to 8th of April the unprecedented action enters into force: in all dealer centers of Europe 10% discount is provided to partners for all range of products available for sale in the territory of Europe! (today it is already more than 120 product names).
The action is directed to making innovative production of the Center of Revitalization and Health more available for european consumers, millions of Europe`s inhabitants to estimate high-quality anti-age products (medicines), and for partners and the dealer centers to open unique opportunities for achievement of long-awaited success.
Success always accompanies those who are guided by a noble purpose: help people of the whole world to find health, prolong youth, keep active longevity, improve quality of life now already. And together with you we easily solve problems which lead to achievement of this high aim.
---
Весной 2018 года состоялся официальный выход компании на рынок Европы. Это новая страница в ее развитии: теперь она работает, как глобальная экономическая структура без границ.
Мы заботимся о том, чтобы продукция была высококачественной и эффективной, сотрудничество с компанией плодотворным и комфортным, а наши цены были доступными. А еще активно поддерживаем тех, кто стремится к успеху, руководствуется амбициозными целями, готов двигаться вперед и жить ярко, интересно, насыщенно, получать удовольствие от выполняемой работы.
Специально для многочисленных потребителей на территории Европы
с 26 марта по 8 апреля включительно
вступает в силу беспрецедентная акция: на всех дилерских центрах Европы предоставляется 10% скидка партнерам на весь ассортимент доступный к продаже на территории Европы! (на сегодняшний день это уже более 120 наименований продукции).
Акция направлена на то, чтобы сделать инновационную продукцию Центра Ревитализации и Здоровья более доступной для европейских потребителей, миллионам жителей Европы по достоинству оценить высококачественные anti-age продукты (препараты), а партнерам и дилерским центрам открыть уникальные возможности для достижения долгожданного успеха.
Ведь успех всегда сопутствует тем, кто руководствуется благородной целью: помогает людям всего мира обрести здоровье, продлить молодость, сохранить активное долголетие, улучшить качество жизни уже сейчас. И вместе с вами мы легко решаем задачи, которые ведут к достижению этой высокой цели.
Back to the list