Product catalog
News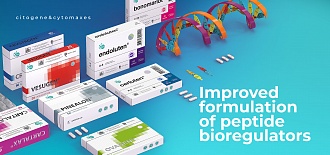 About our products
Innovative serum Beauty Anti-AGE complex NB is already on sale!
We present the real masterpiece of cosmetology — Beauty Anti-AGE complex NB anti-glycation face serum against wrinkles. It is the activator of the youth`s code and the embodiment of a dream of perfect beauty without wrinkles.
In the base of the serum are the latest achievements in the field of anti-aging technologies. The main objectives are: remodeling of all skin structures, fight against glycation — the main enemy of collagen, and fast lifting effect. A combination of professional peptides Matrixyl® synthe '6™, Syn®-Ake and the highly active biotechnological complexes Liftessense™, Moist-24™, Prodizia™-the real break in the sphere of revitalizers and anti-age cosmetology. Serum renders the powerful rejuvenating and regenerating impact on skin, gives it improbable ease and euphoria. At regular application the quality of skin changes: it becomes more smooth and elastic, the grid of mimic wrinkles is smoothed, the natural radiance returns as after a week-long Spa tour.
Back to the list