Product catalog
News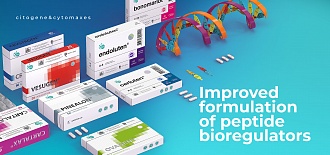 About our products
Open a new dealer center in Europe on favorable terms!
The dynamic and ambitious company 'Peptides' doesn`t stop on what has been already achieved: expands borders of presence in the different countries, develops and introduces anti-age innovations, opens the new dealer centers and official representations. And also continues to please you with the most attractive working conditions, in every possible way to maintain your activity and to be reliable help in the organization of successful business.

Now for involvement of new dealers and opening the dealer centers in the territory of Europe we offer special exclusive terms: a double discount for the new dealer centers for the first year of work! The new dealer center - in the new country! We open opportunities for everyone who wants to improve significantly quality of their own and other people`s lives.
To learn about attractive conditions and all aspects of opening of the new dealer center in the territory of Europe, contact the European representative office: help@peptideproduct.eu
---
Динамичная и амбициозная компания Peptides не останавливается на достигнутом: расширяет границы присутствия в разных странах, разрабатывает и внедряет anti-age инновации, открывает новые дилерские центры и официальные представительства. А также продолжает радовать вас наиболее привлекательными условиями работы, всячески поддерживать вашу активность и быть надежным подспорьем в организации успешного бизнеса.
В настоящее время для привлечения новых дилеров и открытия дилерских центров на территории Европы мы предлагаем специальные эксклюзивные условия: двойную скидку для новых дилерских центров на первый год работы! Новый дилерский центр - в новой стране! Мы открываем возможности для каждого, кто хочет существенно улучшить качество своей жизни и жизни других людей.
Чтобы узнать о привлекательных условиях и всех аспектах открытия нового дилерского центра на территории Европы, обращайтесь в европейское представительство компании: help@peptideproduct.eu
Back to the list