Product catalog
News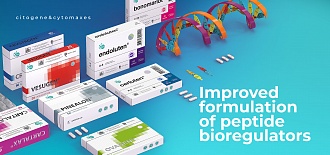 About our products
Peptides announces the improved formulation of peptide bioregulators of the latest generation
05.05.2023
We make sure that you always know about our latest developments and therefore we are glad to announce the release of cytomaxes and cytogens with an updated formulation and packaging.
What has changed?
1 Our capsules have become more natural
The Peptides company listens closely to the requests of the customers, that is why it unites more and more consumers from different countries. Our clients are people who follow the latest trends in the field of healthy lifestyle.
We know that one of the issues that concern everyone today is gelatin content in the capsules. In this connection, we are not using gelatin anymore, we have developed entirely plant-based, transparent and lactose-free capsules.
2 The peptide bioregulators composition doesn't give a single chance to allergy and hypolactasia
We have improved the formulation of cytomaxes and cytogens, making them completely hypoallergenic and environmentally friendly. This step was undertaken due to the growing number of people with lactose intolerance and various types of allergies. For this reason, the new versions of bioregulators don't contain coloring agents and lactose.
3 Packaging design
We have created the unique and intuitively clear packaging. It provides peptide complex number, amount of capsules and dosage of the active ingredient.
New packaging is marked with:
GMP standard sign (Good Manufacturing Practice) — this means that our bioregulators are manufactured in accordance with international requirements for the organization of production and quality control;
«Improved Formula» — advanced formulation of the composition;
Vegetable capsule — plant-based capsules;
Clear capsule — transparent capsules with no additives or coloring;
Lactose free – do not contain lactose.

---

New horizons

The enhancements implemented to the line of cytomaxes and cytogens have made them more affordable! Take full advantage of our products today for the safe smooth functioning of vital organs and systems in the body.
Recall that cytomaxes and cytogens have beneficial health effects, strengthen the immune system and contribute to the quality of life and longevity. They have no side effects and do not cause the withdrawal syndrome.
Back to the list